History & Architecture of Greenfield:
Adeline E. (French) Prouty
Adeline E. French was born August 8th, 1827 in Connecticut. She was trained as a teacher and met John Prouty while living in Wisconsin. They were married and settled on a farm in Dover Township where they had 5 sons. John died in 1883 distributing his estate between Adeline and their sons.
In 1898 Adeline wrote her will, leaving $1,000 to each of her remaining 2 sons, $3,000 to the Hampshire Colony Congregational Church, and the balance to establish a retirement home for ladies. Being blind, Adeline took numerous precautions to make sure her will would not be contested. She was successful.
At the time of her death in 1906, $49,247.61 was available to establish what became know as the "Adeline E. Prouty Old Ladies Home." A 12 room home on 7 acres of land was purchased at 508 Park Ave. East in 1911. Doors were opened on December 1, 1911 with 4 "guests".
Quoting from the admission booklet printed in 1937: "The aim of the Trustees is to make this a Home in the truest sense of the word, not an institution. That the work of the Home may be further extended, the Trustees solicit bequests from any interested persons." Through the benevolence of Adeline Prouty and numerous subsequent benefactors, Greenfield exists providing a unique and caring environment for seniors.
Architect Parker Noble Berry
(Much of this information comes from The Prairie School Review, First Quarter, 1967.)
In the same year that Adeline died (1906), Parker Berry graduated from Princeton High School. He was the class president and Valedictorian and was known for his astonishing capacity for memorizing poetry and passages of literature.
After spending a year working for his father who was a general contractor and ran a lumber business, Barry enrolled in the architectural school at the University of Illinois in Champaign-Urbana. He left in 1909 "convinced that he was not gaining instruction in the American type of designing, which was his objective."
Parker moved to the north side of Chicago where he met and was hired by Luis Sullivan, considered the father of American Prairie Style architecture. Late in 1909 Luis Sullivan's chief draftsman, Elmslie, left the firm and the position he had held since 1893. That was the year that Frank Lloyd Wright had resigned the post over a disagreement concerning his outside commissions. And so, at the age of 21, Parker Berry became Louis Sullivan's chief draftsman and, in fact, designer. Parker held the position for 8 years.
In 1912 Parker sat for the Illinois State Board examinations. "Papers we're marked on a basis of 200," Berry's wife related. "The chairman of the examining board later called Parker into his office where he explained that the entire board had searched his work carefully but were unable to locate any flaw in his paper - it was therefore decided to award a score of 200 to Parker, the first ever given an applicant for an architects license."
This was 5 years before the Prouty Trustees approached him to design a building to enlarge the "Adeline Prouty Old Ladies Home."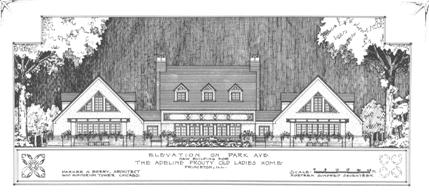 Parker Berry was asked by the Prouty trustees to design a new building while he was Louis Sullivan's chief draftsman and designer. He envisioned a 3-building complex to replace the existing home at 508 Park Ave. East. The resulting plans, signed by Parker Berry, carry the address of Louis Sullivan's Chicago office. Like Frank Lloyd Wright, an outside commission led to the parting of ways with Mr. Sullivan. In Parker's case it was the Prouty commission that led to separation.
The board decided to use the west third of the plans and attach that to the existing home, with construction taking place in 1918.
In late 1917 Parker opened his own office in Chicago and was actively engaged in his profession working on several banks in the Chicago area, a hotel in the Chicago loop, as well as the original Perry Hospital building in 1918. On December 7th, 1918 Parker Berry traveled from Chicago for his father-in-law's Sunday funeral services in Buda, IL. He returned to his father's house in Princeton following services on Sunday the 8th and went to bed early "not feeling well."
1918 is remembered in the medical world as the year of the worst flu pandemic in history, with world wide death toll estimated between 20 and 100 million.
Insisting he only had a cold, Parker refused to see a doctor until Wednesday, when he was diagnosed with influenza. It developed into pneumonia and Parker died at 10:00 a.m. Monday December 12th.
Parker died at age 30 and was heralded as "a successful young architect rapidly working his way toward fame in the City of Chicago". Today there are only four examples of his design in existence. Two are banks, which are currently under renovation (one in Manlius, IL). The 3rd is an apartment house still being used for its original purpose. The final is, of course, our hallmark structure with its original owners, and occupied in its original design and purpose.
Clement Field
Clement Field, a local farmer, died August 27th, 1948 and left his estate to establish a home for men in Princeton. In the summer of 1950 a home was purchased at 612 East Peru Street.
The rules for admission state: "All applicants for admission to the Home must be of good moral character, of good temper to live amiably with others, not less than 70 years of age and of good mental and physical condition, considering age." Each resident was required to make a donation to the home in order to be admitted.
In the early 1960's the Field Trust received the donation of the home at 916 South Main Street, where they moved until 1972 when the home closed due to fire safety code issues. At this time the Prouty Home was also looking at options to meet the newly enacted fire safety regulations.
A process of discernment and co-operative efforts were pursued between the two Boards, eventually leading to a petition and approval by the Circuit Court of Bureau County. Working together, the two trusts built a new building with room for men and women under one roof. With a strong emphasis and commitment to fire safety, a new "non-combustible" structure was completed in 1977. It opened as "Greenfield", the original name of the city of Princeton, on April 19th. The Prouty Trust's Sheltered Care license, received in 1961, was transitioned to the modern Greenfield building.
Again, our appreciation is owed to Clement Field and Adeline Prouty. They and others have felt that providing a quality retirement facility was something worthy of a significant part of their life's work. Both trusts are capable of receiving tax deductible donations and bequests and strive to be good stewards of the funds entrusted to them. Many thanks go to the 6 trustees, and the legacy they represent and protect.
Phil Kaufmann's thoughts on the 2007 Apartment Addition
I have been asked numerous times about the unique construction of the Greenfield addition. I think the two main factors of form and function have influenced this design.
First, has been the Board of Trustee's decision to follow though with the architectural vision laid out by Parker Berry in 1917. His original plan calls for two wings facing north on the property. While certain elements of that plan have been modified for our site and the way we will be using the space, his vision is clearly seen in the design. This form comes from the classic Prairie Style Architecture.
The second factor influencing the construction is the use of a steel frame. In response to the 1977 safety demands, our existing facility enjoys a very high fire safety rating with its non-combustible structure. Again, the Board felt maintaining this level of safety and commitment to quality was an important statement about Greenfield, its history and future.
It is quite a responsibility for the Trustees to be both in touch with over 100 years of history represented by Greenfield and to focus on the future of the services provided here.

History & Architecture section compiled by Phil Kaufmann.